COMBIPAC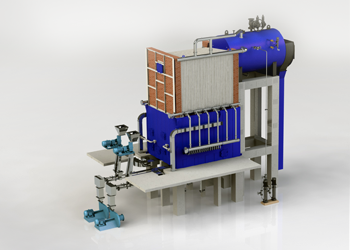 Combipac is an ideal alternative to expensive oil fired boilers. It enables large savings on fuel bills through the use of low cost agro-waste, and other solid fuels, that are abundantly and easily available in India.
The boiler technology integrates Thermax's four decades of extensive R&D and pioneering experience in the combustion of over 100 different kinds of solid fuels.
Product Highlights
Hybrid design of smoke and water tube.
External furnance and four-side membrane panel, with cycloidal air injection
Capacity - 2 to 10 TPH for fix grate boilers & 4 to 16TPH for fluidized bed boilers.
Fuel- Indian and imported Coal, lignite, bagasse, groundnut shell, paddy husk, wood, sawdust petcoke (other fuel firing options also available on request)
Fuel firing – manual /automatic.
Standard design pressure – 10.54 and 17.5 kg/cm2g
Air pre-heater an integral part of boiler.